Notes from the Manager
Related Strips: #493: What Dreams May Come, Part One; #494: What Dreams May Come, Part Two; #495: What Dreams May Come, Part Three
Don't forget that there are THREE STRIPS this week, so I'll see you on Friday, with the conclusion of this arc, more or less.
WARNING: The blathering below might be spoilery about Inception to some sensitive types, even though I don't get very specific at all. See it already. It's good, clean fun.
When I come up with the characters' opinions about a movie, I have a few resources: my opinion, my friends' opinions (hi, Peter!), and the asshole of the universe… a.k.a. the internet.
Reading comments on the internet about movies like Inception gives me a freakin' headache, because you end up with everybody crapping out their theories and "evidence" (many of which are factually flawed) and half the people insulting anybody who disagrees with them — or simply didn't like the movie — by saying they "didn't understand it." ugh
For instance, two details often raised as "proof" that the ending was still in a dream: the children at the end of the movie are neither the same age, or in the same clothing. They're played by different kids and identified as two years older than the other (dreamed) appearances in the movie, and the costume designer has confirmed that they were wearing different clothes.
I (and Jason, who usually — not always — shares my opinions about films) are in the minority here, it seems, but as much as I liked it (I've seen it twice) I felt that it was a pretty straightforward movie. My "interpretation" is that the whole movie is utterly face value. Other than the opening, which flashes forward to Cobb's second time in Limbo, the entire story is completely linear — even when they're jumping in and out of dreams and going up and down dream "levels," or whatever. And the "ambiguous" ending is really cut and dry if you understand that tops that spin infinitely do not wobble because of physics.
Yes, it's a dream, but they previously showed the top spinning infinitely and it never wavered. To say it's still a dream even though it wobbled requires some other explanation about why the totem…
…
GAH. I don't even like talking about this stuff. The big question of "was the whole movie a dream?!" to me is just… well, frankly, it's annoying to me, because honestly, if Inception isn't straightforward — if the events as we see them and as the characters explain (a bit too much) to us throughout the entire movie — then I like it less, because it's one thing to misdirect and then have a reveal, or to have an ambiguous ending — neither of which I think Inception does — and it's another to waste an audience's time with utter bullshit. That's simply not good storytelling (to me), and I don't think Christopher Nolan is a gimmicky bullshit director.
If you give me a puzzle, I want enough pieces there that I can make some sense of it — like in the time travel mindfuck Primer, for instance, which I've also seen twice and still am not totally sure what happened (because they don't show you all of the pieces of the puzzle). And it's brilliant.
Don't give me a jumble of cardboard and pretend it's a puzzle — I'm looking at you, Donnie Darko. I enjoyed you while I watched you, but you don't make a goddamn bit of sense. I don't care about the endless theories of time warps that were on the website or whatever; if it's that crucial to the story, it should be in the freakin' movie.
So yeah: Inception. Lots of fun. The zero G hotel fight was fantastic. It's also not at all hard to follow, complicated, or ambiguous. And if you really want to make it out to be more complicated than that, go right ahead, but… seriously. Why make life harder on yourself than it needs to be?
(By the way, if you disagree about any of this, feel free to pop into the forum and tell me why — but keep it polite, or I will punch you in the throat.)
But wait! There's more!
Although Multiplex will be ending soon, thanks to readers like you on Patreon, the Multiplex 10 will stay open for business! I'll be posting bonus comics from future print collections, Multiplex Movie Review strips, updates on the upcoming Multiplex animated short, and, of course, other non-Multiplex stuff.
In addition to the warm, soothing feeling of being a patron of the fine art of comic strippery, Patrons get access to free Multiplex eBooks, sneak previews of upcoming comics and other behind the scenes peeks, sketch giveaways, and more!
You can also support Multiplex by shopping at the Multiplex store — or at Amazon via these affiliate links: United States | United Kingdom | Canada
Deleted Scenes Blog
Bonus comics, drawings,
movie trailers and more
Friday, February 17, 2017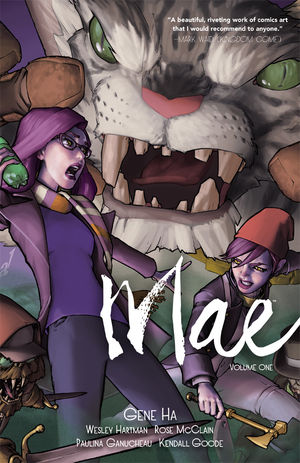 Heads up, completists. I have a three page story in the new Mae Volume One TPB from Dark Horse Comics. This is the same one I co-wrote (with Mae creator Gene Ha) and as a thank-you for backers of its original Kickstarter edition — and Dark Horse's editors decided to include the story in the back matter of this new collection, along with a bunch of other short stories by other great creators.
BUT… I have a story in a Dark Horse-published book! That's cool!
If you're not familiar with Mae, it's an all-ages adventure comic by Gene Ha (Top Ten and a billion other comics). Here's the official Dark Horse synopsis:
When she was just a girl, Abbie discovered a portal to a fantasy world and has since had great adventures there: defeating horrible monsters, power-mad scientists, and evil nobles. But when she turned twenty-one it all came apart and she decided to return home. Her sister, Mae, had no idea what happened to Abbie all this time, and Abbie's tales are too hard to believe—that is, until the monsters and other terrible creatures start to cross over to our world . . . Collects issues #1–#6.
I highly recommend it. It is a lot of fun. You can learn more about Mae Volume One on Amazon.
Other Recent Posts