Notes from the Manager
Related Strips: #493: What Dreams May Come, Part One; #494: What Dreams May Come, Part Two; #495: What Dreams May Come, Part Three; #496: What Dreams May Come, Part Four
So yeah!
I forget if I mentioned there's a new desktop wallpaper available free if you make a donation via PayPal. You can actually get a preview of the art for it by visiting the all-new OpenCart-powered Multplex Store, now with a unified design (well, except for the lack of an ad, because it was causing problems with the SSL certificate).
There isn't any new merchandise in it — YET — but I needed to switch to a store that allows me to accept pre-orders… because obviously I've got this print collection coming out soon. Have you heard about that? :)
As it says on the left sidebar (below the strip) on the front page of the Multiplex site, the book is currently slated for September 22nd on-sale date. (It would ship shortly before then for pre-orders, to hopefully arrive on the 22nd.) I don't know of any reason why I should miss that date, since I will actually be getting the book somewhat earlier than that — but I need time to get review copies out and that sort of thing. Kickstarter Backers will likely get their copies a little earlier than that, too; I'll just need time to get all the packages together after the books arrive. (There are like 250 of them, so, you know… it's a lot of work.)
Also new to the little Upcoming Events sidebar (for those of you who don't pay attention to that, or aren't reading this on the front page of the site) is a few conventions I'll be at in the near future. Let's start with the biggest one, which happens to be the second largest comic book convention in the country:
New York Comic Con (October 8–10)! It looks like Liz Bailie of Freewheel and I will be sharing a table in the Webcomics Pavilion. More details to come on that one.
I'm also planning on going to FallCon in Minneapolis, but that's not definite juuust yet.
And, for those of you in the Indianapolis area, I'll be at… actually, I'm not sure what it's called, but one of ASH Comics & Shows… shows… at the Ramada I-70 on October 24th. It's a tiny con, and I'll probably be stuck in a corner somewhere and seriously lonely, so if you're near there, drop by and keep me company.
I will also be doing a signing/book release party at Third Coast Comics in Chicago, right around the book release (naturally) and a signing at Acme Books & Comics in Peoria, Illinois, in either September or October, so keep your eyes peeled for information about those if you want me to scribble in the book for you, or save yourself shipping, or whatever.
EDIT: I've just confirmed with Terry of Third Coast Comics that the signing/book release party will be on September 18th, from 4pm to 7pm — kind of a limited release before the "wide" release on the 22nd, to put it in movie terms. It will be followed with their monthly Chicago Comic Book Meetup (at 7pm), where I'll be a special guest!
But wait! There's more!
Although Multiplex will be ending soon, thanks to readers like you on Patreon, the Multiplex 10 will stay open for business! I'll be posting bonus comics from future print collections, Multiplex Movie Review strips, updates on the upcoming Multiplex animated short, and, of course, other non-Multiplex stuff.
In addition to the warm, soothing feeling of being a patron of the fine art of comic strippery, Patrons get access to free Multiplex eBooks, sneak previews of upcoming comics and other behind the scenes peeks, sketch giveaways, and more!
You can also support Multiplex by shopping at the Multiplex store — or at Amazon via these affiliate links: United States | United Kingdom | Canada
Deleted Scenes Blog
Bonus comics, drawings,
movie trailers and more
Friday, February 17, 2017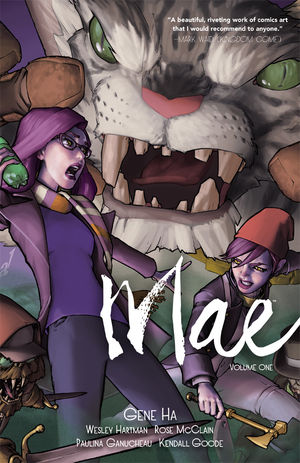 Heads up, completists. I have a three page story in the new Mae Volume One TPB from Dark Horse Comics. This is the same one I co-wrote (with Mae creator Gene Ha) and as a thank-you for backers of its original Kickstarter edition — and Dark Horse's editors decided to include the story in the back matter of this new collection, along with a bunch of other short stories by other great creators.
BUT… I have a story in a Dark Horse-published book! That's cool!
If you're not familiar with Mae, it's an all-ages adventure comic by Gene Ha (Top Ten and a billion other comics). Here's the official Dark Horse synopsis:
When she was just a girl, Abbie discovered a portal to a fantasy world and has since had great adventures there: defeating horrible monsters, power-mad scientists, and evil nobles. But when she turned twenty-one it all came apart and she decided to return home. Her sister, Mae, had no idea what happened to Abbie all this time, and Abbie's tales are too hard to believe—that is, until the monsters and other terrible creatures start to cross over to our world . . . Collects issues #1–#6.
I highly recommend it. It is a lot of fun. You can learn more about Mae Volume One on Amazon.
Other Recent Posts