Notes from the Manager
Related Strips: #652: Mortal Combat, Part Five; #655: Art Imitating Life; #658: Calling the Shots, Part One
Running even later than I was on Thursday, so until I can get the hand-drawn panels for this page inked and toned, you'll just have to stare at my pencils (plus a little shading that I threw in for toning reference).
The good news is, my graduate school portfolio and application are now turned in, and I only have Multiplex and way too much freelance work to concentrate on now. Cross your fingers for me, I guess?
Once again, we have Matt in the hand-drawn panels (3 & 4, anyway). Still just a background character…
See you Thursday!
UPDATE (1/18): Well, I was supposed to be blacked out. But I messed something up with the code. Because I'm dumb. Anyway. Go here to learn more about SOPA and PIPA and/or write your Congressmen. Please.

Multiplex News & Updates
Bonus comics, drawings, and
other awesome stuff
Saturday, May 27, 2017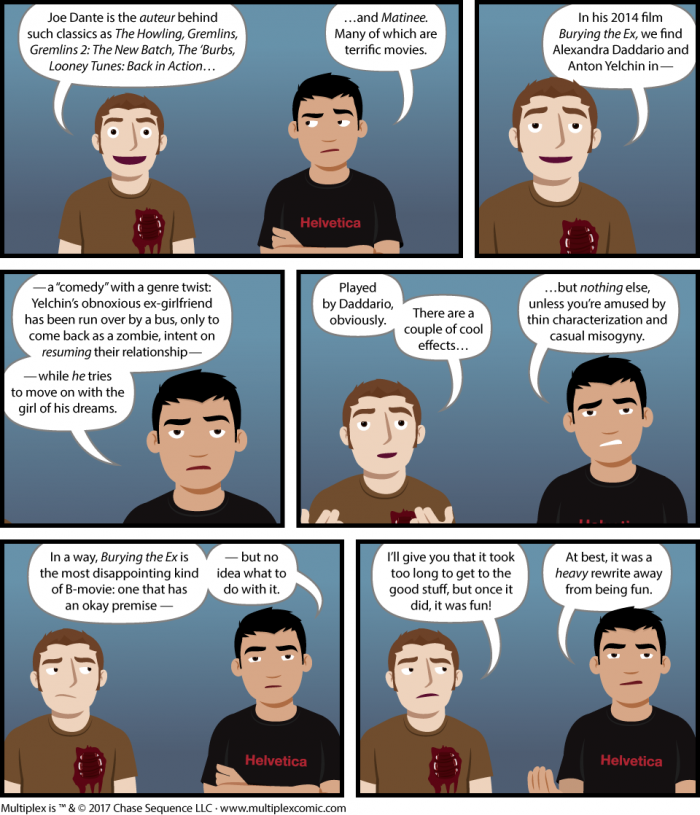 Hello, Multiplex readers!
A quick update on what's going on with everything Multiplex-related:
The storyboards for the Multiplex 10 animated short are DONE. Rough, but done. Pre-production continues for the next few weeks with the construction/editing/etc. of the first rough animatic and design/illustration work.
Although the Kickstarter project has ended, you can still support the project (or my comics work) by becoming a Patreon patron or making a one-time PayPal donation.
Multiplex: The Revenge (Book Three) is being shipped out to Kickstarter backers and will be available for purchase to everyone else on June 14th — as will the Multiplex mini-posters set.
I will be at Wizard World Philadelphia (Friday–Sunday only) with copies of Book Three, so if you're in that neck of the woods, you can get it a little early. :)
Multiplex Movie Reviews like this one, bonus comics from Multiplex: The Best Laid Plans (Book Four), and other stuff are being exclusively posted to Patreon a couple of times a week. Er, except for this one, obviously.
Other Recent Posts