Notes from the Manager
Related Strips: #641: Method Man; #642: Call to Adventure; #643: If Chins Could Kill; #647: Ready? Fight!; #659: Calling the Shots, Part Two; #681: A New Hope; #682: Rough Draft; #683: Bro Code
Returning from ECCC took a bit longer than expected, and between that and my cold, I was a bit behind on the strip — so here are just the inks.
Obviously, we're back to filming the zombie movie, and I'm fast-forwarding through the stuff we've already seen before (with Angie), so I guess there's not a whole lot new in this page — but we'll get to some new stuff on Monday, I promise.
We've passed $11,500 in the Book 2 Kickstarter drive — but there are only six days left! At the rate we've been going for the last week (a little over $200 a day), we will fall short without your help. If you haven't pledged yet, please check out the Kickstarter project page.
Remember, if we don't reach the goal, I get none of the money. So if you love your copy of Multiplex: Enjoy Your Show and would like to see the book collections continue, please consider pledging. There are reward levels for just the eBook collections and just the book (or both books) — every pledge helps.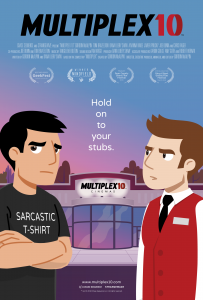 Multiplex 10 is here!
Although Multiplex 10 has ended, an animated prequel/reboot called Multiplex 10 was funded through Kickstarter in 2017 and is NOW AVAILABLE for rent or purchase on Vimeo On Demand, Amazon Video, and elsewhere! And an all-new, irregularly-updated Multiplex 10 web series (set after the short film) recently launched on YouTube! Learn more about the web series on the official Multiplex 10 website!
Stay up to date on all things Multiplex, Multiplex 10 and me (a.k.a. Gordon McAlpin) by subscribing to my newsletter!