Notes from the Manager
Related Strips: #641: Method Man; #642: Call to Adventure; #643: If Chins Could Kill; #647: Ready? Fight!; #659: Calling the Shots, Part Two; #681: A New Hope; #682: Rough Draft; #683: Bro Code
Returning from ECCC took a bit longer than expected, and between that and my cold, I was a bit behind on the strip — so here are just the inks.
Obviously, we're back to filming the zombie movie, and I'm fast-forwarding through the stuff we've already seen before (with Angie), so I guess there's not a whole lot new in this page — but we'll get to some new stuff on Monday, I promise.
We've passed $11,500 in the Book 2 Kickstarter drive — but there are only six days left! At the rate we've been going for the last week (a little over $200 a day), we will fall short without your help. If you haven't pledged yet, please check out the Kickstarter project page.
Remember, if we don't reach the goal, I get none of the money. So if you love your copy of Multiplex: Enjoy Your Show and would like to see the book collections continue, please consider pledging. There are reward levels for just the eBook collections and just the book (or both books) — every pledge helps.
Multiplex News & Updates
Bonus comics, drawings, and
other awesome stuff
Saturday, May 27, 2017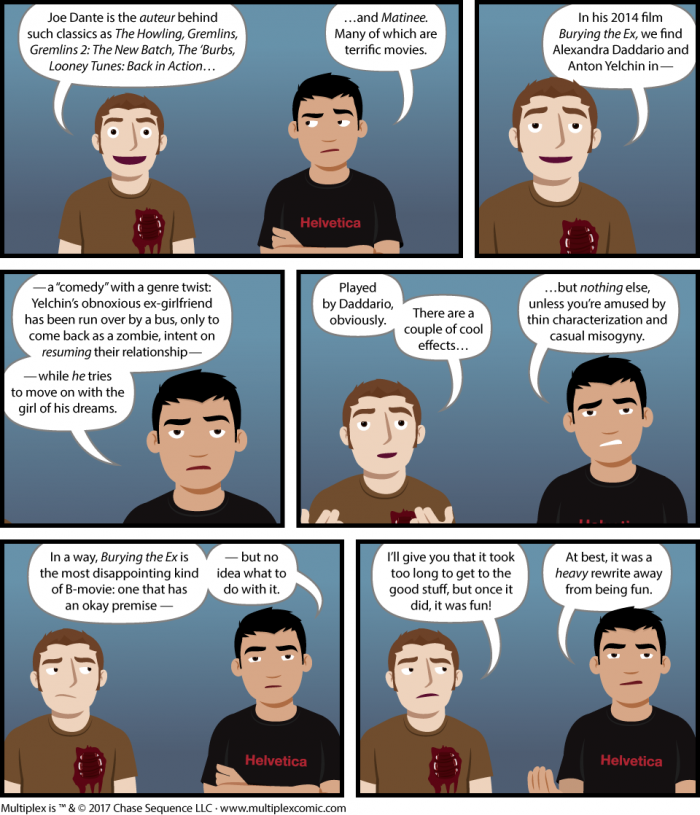 Hello, Multiplex readers!
A quick update on what's going on with everything Multiplex-related:
The storyboards for the Multiplex 10 animated short are DONE. Rough, but done. Pre-production continues for the next few weeks with the construction/editing/etc. of the first rough animatic and design/illustration work.
Although the Kickstarter project has ended, you can still support the project (or my comics work) by becoming a Patreon patron or making a one-time PayPal donation.
Multiplex: The Revenge (Book Three) is being shipped out to Kickstarter backers and will be available for purchase to everyone else on June 14th — as will the Multiplex mini-posters set.
I will be at Wizard World Philadelphia (Friday–Sunday only) with copies of Book Three, so if you're in that neck of the woods, you can get it a little early. :)
Multiplex Movie Reviews like this one, bonus comics from Multiplex: The Best Laid Plans (Book Four), and other stuff are being exclusively posted to Patreon a couple of times a week. Er, except for this one, obviously.
Other Recent Posts