Notes from the Manager
Related Strips: #687: Insolence of the Dead; #688: Born for This; #689: Bad Brains; #690: Bad Taste
This (slightly but not very spoilery) clip/scene from Cabin in the Woods does pretty much the same thing (for slightly different reasons) as I'm doing here, but the lock-down scene is pretty common in zombie movies (and horror movies in general). Besides, I had this scene planned out way before I saw the movie!
Cabin is a fantastic movie, by the way. You should avoid spoilers, avoid reviews, avoid the trailer even — just see it. Especially if you're a Joss Whedon fan, even if you're not a big horror buff.
See you Monday!
FAIR WARNING: Do not talk Cabin spoilers below — even the stuff the trailer spoils. I will seriously delete that shit.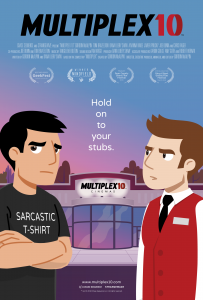 Multiplex 10 is here!
Although Multiplex 10 has ended, an animated prequel/reboot called Multiplex 10 was funded through Kickstarter in 2017 and is NOW AVAILABLE for rent or purchase on Vimeo On Demand, Amazon Video, and elsewhere! And an all-new, irregularly-updated Multiplex 10 web series (set after the short film) recently launched on YouTube! Learn more about the web series on the official Multiplex 10 website!
Stay up to date on all things Multiplex, Multiplex 10 and me (a.k.a. Gordon McAlpin) by subscribing to my newsletter!