Notes from the Manager
Related Strips: #226: Agree to Disagree?, Part One; #227: Agree to Disagree?, Part Two; #228: Agree to Disagree?, Part Three; #229: Flies, Vinegar, and Honey; #230: Life, the Universe, and Everything; #232: Blind Faith; #287: Personal Religulosity, Part One; #288: Personal Religulosity, Part Two
This strip takes place in an as-yet-unnamed 24-hour, '50s-themed diner that just-so-happens to be decorated with movie posters from the decade. (I couldn't resist.) It's located down the strip mall from the Multiplex 10 and Flickhead Video, and will probably show up again sooner or later.
I've been really taken aback by the enthusiastic response to this story arc, particularly from my Christian readership. I hope this last installment of the three-parter didn't ruin everything. Anyway, as always, thank you for reading.
The voting round continues through October 14th for Frumph.net's Webcomics Readers Choice Awards! Angie has been nominated for (Best) Supporting Character, which is really cool in and of itself — but If she wins, I will do a bonus strip "acceptance speech"! She's currently in the lead, but if you haven't voted yet, be sure to help keep her there!
(Oh, and by the way, the desktop picture featuring Sunny as Tinker Bell that — previously available only as a vote incentive — has been added to the Extras page.)
UPDATE (10/11): A rather lengthy interview with me has gone up at ComixTalk. It's my second interview with them; the first was back in 2006, when Multiplex was still a new kid on the block.
Multiplex News & Updates
Bonus comics, drawings, and
other awesome stuff
Saturday, May 27, 2017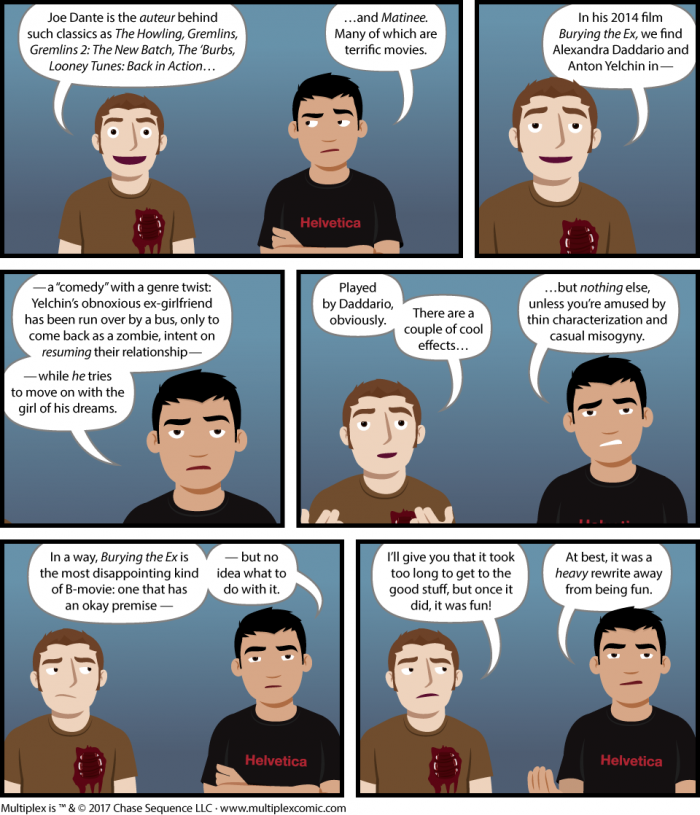 Hello, Multiplex readers!
A quick update on what's going on with everything Multiplex-related:
The storyboards for the Multiplex 10 animated short are DONE. Rough, but done. Pre-production continues for the next few weeks with the construction/editing/etc. of the first rough animatic and design/illustration work.
Although the Kickstarter project has ended, you can still support the project (or my comics work) by becoming a Patreon patron or making a one-time PayPal donation.
Multiplex: The Revenge (Book Three) is being shipped out to Kickstarter backers and will be available for purchase to everyone else on June 14th — as will the Multiplex mini-posters set.
I will be at Wizard World Philadelphia (Friday–Sunday only) with copies of Book Three, so if you're in that neck of the woods, you can get it a little early. :)
Multiplex Movie Reviews like this one, bonus comics from Multiplex: The Best Laid Plans (Book Four), and other stuff are being exclusively posted to Patreon a couple of times a week. Er, except for this one, obviously.
Other Recent Posts