Notes from the Manager
Related Strips: #1040: Pay It Forward; #1041: Never Back Down; #1042: You're in Good Hands; #1043: Patron of the Arts; #1044: I Could Have Got More; #1045: Kill or Be Killed
If dumb horror comedies with terrible acting, grauitous nudity and ridiculously over the top gore are up your alley, Zombeavers is… actually pretty fun. The real life Kurt Bollinger and I watched it when I was back in my hometown earlier this summer, and I had to admit, it had some legitimately hilarious moments.
This trailer is everything you need to know:
This is the end of Book Eight — meaning I'll start the FINAL Multiplex book on Monday. Don't get too sad just yet; it's still a ways off. The books tend to be at least a year long. (Book Eight, for instance, was 15 months.)
There will be five strips next week again, too: two regular updates and three movie review strips. I'm not sure which ones they'll be. At least one will be on one of the Bayformers movies, but I kind of need to watch a movie that I'll actually enjoy (I've already seen the first three; I'm rewatching them for the review, not assuming I will hate it).
Multiplex News & Updates
Bonus comics, drawings, and
other awesome stuff
Saturday, May 27, 2017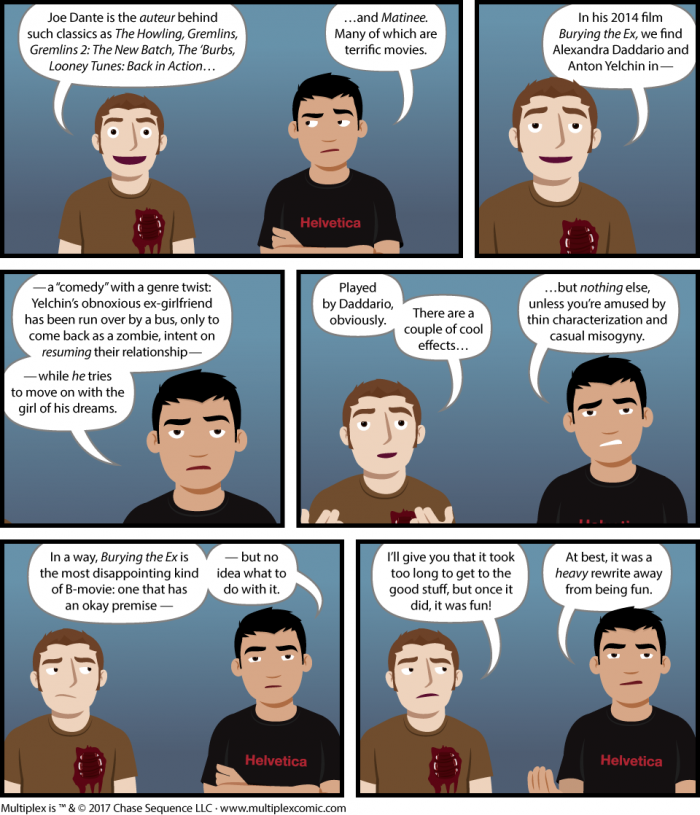 Hello, Multiplex readers!
A quick update on what's going on with everything Multiplex-related:
The storyboards for the Multiplex 10 animated short are DONE. Rough, but done. Pre-production continues for the next few weeks with the construction/editing/etc. of the first rough animatic and design/illustration work.
Although the Kickstarter project has ended, you can still support the project (or my comics work) by becoming a Patreon patron or making a one-time PayPal donation.
Multiplex: The Revenge (Book Three) is being shipped out to Kickstarter backers and will be available for purchase to everyone else on June 14th — as will the Multiplex mini-posters set.
I will be at Wizard World Philadelphia (Friday–Sunday only) with copies of Book Three, so if you're in that neck of the woods, you can get it a little early. :)
Multiplex Movie Reviews like this one, bonus comics from Multiplex: The Best Laid Plans (Book Four), and other stuff are being exclusively posted to Patreon a couple of times a week. Er, except for this one, obviously.
Other Recent Posts